RV Roof Inspection
The first step in any RV roof inspection is to get out the step ladder and take a good look at the roof condition.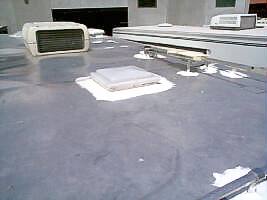 If the roof is metal, especially if it is the seamed type, (has crosswise seams every 48" or so), then lay a plywood strip or some wide boards (lengthwise) to walk on. This way the boards span the roof rafters and distribute your weight evenly over several supports. A rubber covered roof has an underlying layer of material, usually a 3/16th to 1/2 inch plywood or particle board sheeting that evenly supports your weight.
The membrane on a rubber or metal roof is made of a very tough and durable material but it is fairly thin and can be punctured by a sharp object. Yes, you can carefully walk on the surface, however first check your shoes for embedded stones and such, that could do damage to the roof covering.
Natural weathering will occur on a roof of any material and various contaminants will discolor all or portions of the surface. Aluminum will "age" to a slate colored state and a rubber roof may present a chalky residue. In any case be prepared with casual work clothing and footwear to conduct a proper inspection. You WILL get dirty.
An aluminum roof can and does last for many years if it is maintained properly. The same goes for rubber, fiberglass or any combination of the above materials. The sealants that are used may last for several years, but the conditions they are subject to vary so widely in the extremes between hot and cold and humidity. Sealants may have to be renewed or repaired in as little as 6 months!
The roof should be inspected at least twice a year and any developing condition corrected immediately. Different brands of sealants preform better than others. For example, our Fleetwood trailer line (Wilderness and Mallard), have recently changed the brand of sealant used on their rubber roofs. (I don't have access to the name of the brands they use, as yet, and getting an answer from them is a time consuming process! Even for a Dealer!). The new one is very poor and needs touching up almost as soon as they come onto the lot. They may have solved the problem because the 2001 models seem to be better.
For rubber roofs use a self-leveling sealant - Dicor makes the rubber membrane and also a line of sealants that are compatible under the Dicor name. See: Dicor roof sealant
Aluminum and fiberglass roofs use a fibre impregnated roof coat material to seal the seams and accessory openings. These materials are applied with a paint brush or putty knife and should be applied to a clean prepared surface for best results. Any loose or flaking roof coat should be removed and the surface cleaned with soap and water. A wire brush can be used to "rough" up the surface. A heat gun will help soften the old roof coat to aid in removal. So will the hot sun on a 100 degree day, but that is no time to be up on the roof!
Remember, it's not the roof material that usually leaks, it is all the extra holes cut into it for various items and the sealant used on these openings that creates the leaks.
See also:
RV Roof Repair