Renewing the roof coat ...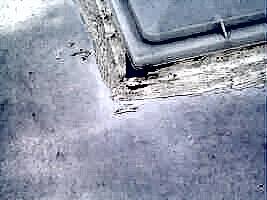 This photo shows a very neglected roof - the roof coating is cracked and actually has been lifted away from the surface by heat and moisture. This area is very liable to be a source of leaks and needs immediate attention! The old roof coating must be scraped away - some old fashioned elbow grease is needed. A stiff putty knife, similar to a mechanics gasket scraper, is used to scrape away the old material. An electric heat gun will soften the material for easier removal, although this still remains a tedious job.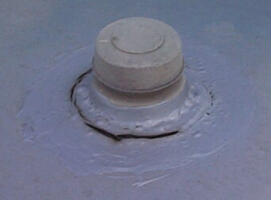 Another area of this same roof ... this roof has not seen any attention for many years!
The repaired area.
The roof coat has been re-newed and this vent is again sealed.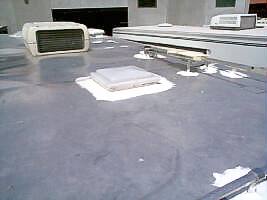 The finished roof. Depending on the original state of repair, this job would take between one and six or eight hours. The roof coating should be inspected at least once a year and touched up or re-newed as needed.