Michigan RV Salvage Yards
Find RV Salvage and used RV parts in Michiga. Used RV parts are a good way to save money when repairing or maintaining your RV.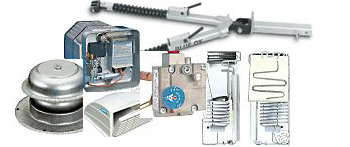 Apache Sales Corporation 587 S. Court Street, Suite 200 Lapeer, MI 48446
1-810-664-9961 Home of the Apache camping trailers
Bontrager's RV Surplus Parts 18719 E. US 12, White Pigeon, MI 49099
1-269-483-7017, FAX 1-269-483-7786
Camp Trailer Parts 2287 Millville Road, Lapeer, MI 48446
1-810-664-3080 Specializing in parts for Apache pop-ups.
Camper & Recreation Inc. (Canvas Replacements Div) W2299 State Hwy 98 Loyal, MI 54446 1-800-232-2079, or 1-715-255-8142
Cinnabar Engineering Inc. 116 Orval Street, Sandusky, MI 48471
1-800-720-2227 All original GMC motorhome parts and publications; Chevrolet and Workhorse
Factory RV Surplus 710 Sol Morris, White Pigeon, MI 49099
1-269-464-2245 We are a growing leader in RV parts distribution across the United States. We import, and buy direct in order to offer our customer lower prices.
Graber Industries Inc. 19100 Fairchilds Road, Constantine, MI 49042
1-616-279-5288 Obsolete/new RV parts/supplies, materials, carpeting and plumbing.
HELM INC. 14310 Hamilton Ave. Highland Park, MI 48203
1-800-782-4356 Manuals for automobiles, van, trucks and motor homes
Johnson's Surplus - 12195 U.S. 12, White Pigeon, MI 49099, 1 269-483-2249
K and A Enterprizes, Livonia, Michigan 48152
1-248-427-0383 RV & Camping Accessories, Parts, Equipment & Supplies for all types of Campers
Spartan Motors 1000 Reynolds Road, Charlotte, MI 48813
1-517-543-6400 Manufactures the Spartan Chassis line & this is surplus list
Tom's Borderline Bargains 67351 US South 131, Constantine, Michigan 49042
(616) 435-5533 Refrigerators, ranges, hot water heaters, furnaces, paneling, replacement windows, Amish oak, carpet, trim.
Michigan RV Outfitters 337 S Meridian Rd (US-127) Hudson, MI 49247
1-517-610-8419
Weller Auto 2525 Chicago Dr. Grand Rapids, MI 49509
1-616-538-5000, FAX 1-616-538-4159