"Who Wants To Save Money on the
High Cost of RV Maintenance?"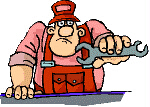 Well you do! ... of course!
RV Maintenance is essential to preserving the value of your RV investment. This free RV maintenance report will show you how to do some basic maintenance chores and save by doing-it-yourself!
Consider this!
One trip to the repair shop will likely cost you well over $100 on labor charges, just for a minor maintenance chore.
With this report you could do some (or all) of those maintenance jobs yourself, even if you have no previous experience.
How to Inspect your Roof like an Expert!

How to Inspect your Tires, Wheel bearings, Suspension and Brakes to prevent future problems.

How to Inspect your Propane System from the tank to the other end.

How to Keep your "Stuff" Secure.
Plus !
How to Fix your own Clearance Lights.
How to Secure your Awning from those pesky wind gusts ...
How to Prolong the Life of your Batteries ...
And much more!
This report is FREE for my readers and all your friends.
You are only 14 seconds away from reading this Free RV Maintenance report.
Download Your Free RV Maintenance Report!
When the report opens, right click and select "save as" to save it to your computer.