Iowa RV Salvage Yards
Find RV Salvage and used RV parts in Iowa. Used RV parts are a good way to save money when repairing or maintaining your RV.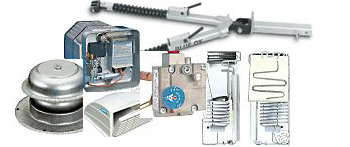 Agency RV Sales & Service 674 E. Highway 30, Mechanicsville, IA 52306
1-800-938-4936 rebuild all parts for Vixen motorhomes.
Mobility RV P.O. Box 85 Hanlontown, IA 50444
1-800-933-7742, or 1-515-896-2222
Specialize in LeSharo-Phasar, mail-order parts help.
Ron the Bus Nut (CLOSED)
Vanderhaag's, Inc. 3809 4th Ave. W. Spencer, IA 51301
1-800-831-5164, or 1-712-262-7000
Oshkosh and Winnebago surplus parts, plus new and rebuilt engines,transmissions, rearends, wheels, manifolds and rotors.
WINNEBAGO Surplus & General Store P.O. Box 152, Forest City, IA 50436-0152
1-641-585-3535, FAX 1-641-585-6958.