Indiana RV Salvage Yards
Find RV Salvage and used RV parts in Indiana. Used RV parts are a good way to save money when repairing or maintaining your RV.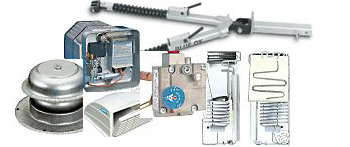 All Seasons RV Appliance Parts & Service 1150 Mitchell-Jellison, Elkhart, IN. 46516
1-800-344-0673 (574) 293-4591 new and reconditioned appliance parts, many hard to find parts.
Bill's RV Elkhart, IN.
1-219-522-1569 - Salvage yard.
Cooper RV Salvage, Elkhart, IN.
1-219-293-3027 all types of parts for all types of RV.
DCM Company (div. of RV Marketing, Inc.) 2016 Borneman Avenue Elkhart, Indiana 46517
1-888-303-8570 or 1-574-294-6989, Fax 574-294-7599
Serving the repair industry with repair parts and replacement glass and windows
for van conversion repair; and motor home, motor home, windshields and RV windows.
D.T.I. Inc. Parts Unlimited 304 1/2 N. Main Middlebury, IN 46540
1-800-289-0919, Recond./Scratch/dented appliances, RV appliance parts.
Double D Salvage, 12678 CR 34, Goshen, IN 46528 (574) 642-3316 - new rv items, discontinued,scratch and dents. Furniture,awnings,appliances, rv doors, lots of hardware and trim
EDWARDS MOTORS 4029 Central Avenue, Lake Station, IN 46405
1-219-962-4772 Specialize in mechanical renovation of older Dodge-powered motor homes.
Elkhart Surplus Salvage, 28301 US33 West Elkhart, In 46516
1-574-295-8903
Factory RV Surplus 1611 W Bristol St, Elkhart, IN 46514
1-800-325-1461 1-574-262-3327 Great place for surplus RV parts.
Hehr International WINDOWS PO Box 219 Plymouth, IN 46563
1-219-935-5122 Window manufacture and supplier
Icke's RV Surplus, Montpilier, IN, 1-317-728-5668
Raymond Ickes Supplies, 701 W Huntington St, Montpelier, IN 47359 1-765-728-5668 New/Surplus RV parts, 29 years in business, 4 warehouses. UPS nationwide.
L&M Salvage/Midwest Salvage Mishawaka, IN
1-219-825-9822
Master Tech. 27575 CR 24, Elkhart, IN 46517
1-219-522-6224; FAX: 1-219-522-6302 OEM parts, distributor of RV components.
Midwest Salvage Inc. 1700 N State Road 5 Shipshewana, IN 46565
1-219-768-4884 We cater to the recreational vehicle business.
RV and Van Surplus 2016 Borneman Ave. Elkhart, IN 46517
1-888-303-8586 A division of RV Marketing, Inc.
RV Salvage 3551 Cassopolis St. Elkhart, IN
1-219-264-5575 Windows, sinks, doors, furniture, paneling
RV Surplus Salvage 1400 W. Bristol Street Elkhart, IN 46514
1-574-264-5575
Salvage Co. 65504 US 31 South, Lakeville, IN
1-219-784 8954
State Line Salvage 51027-2 St. Rd. 13 Middlebury, IN 46540
1-219-825-7540 Van seats, tires, VCRs, TVs, drink trays, consoles and misc. van/RV accessories.
Surplus Online 2016 Borneman Ave Elkhart, IN 46517
1-574-294-6989, 1-888-303-8586 RV and van seating, surplus conversion parts.
T-N-T Service and Surplus 2837 OLD US 20 WEST ELKHART, IN 46514
1-574-356-6344
Warehouse Salvage 11721 McKinley Hwy.(rt 20) Osceola, IN
1-219-674-9302 Mostly van items, small store.
V-Sales Company 2016 Borneman Avenue, Elkhart, IN 46517 USA
1-800-528-7953 Camper Van Van Conversion parts source, mainly new, some obsolete/surplus items