Arizona RV Salvage Yards
Find RV Salvage and used RV parts in Arizona. Used RV parts are a good way to save money when repairing or maintaining your RV.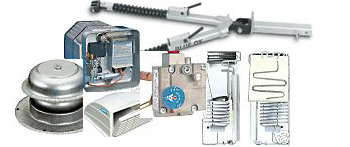 Al's RV Service Centers 5151 Bell Rd Glendale, AZ 85308
1-602-938-4990
Specializing in hard to find parts & handicapped RV equipment.
ARIZONA RV SALVAGE (RVYARD) - 4646 W Pasadena Ave, Glendale, AZ 85301; (602) 272-0301, FAX (602) 272-3072, Toll Free 1-877-824-8242. New and used plumbing, cooling, lighting, appliances, windows, doors, holding tanks, hubs, rotors, axles, running gears and rear ends. Vast inventory, will ship nationwide. info@rvyard.com
Economy Used RV Parts - 1678 W. Superstition, ApacheJunction , AZ 85220 (800) 224 2601 or 520 982 2678 New, used, salvage, surplus and obsolete parts with discount prices. Buy/sell/trade
Gamblers RV Supply 55 Kuehn St #14 Rice Ranch South, Quartzsite, AZ 85346
1-928-927-5966 New, Used, We have what others don't. Open Oct. 1st thru April 15th for walk in business.
Gerry's 1300 East 8th Street Tempe, AZ 85281
1-480-921-1101 Furniture and interior manufacturer
Isley's RV Service center 2225 W. Main Street Mesa, AZ 85201
1-602-834-1234 or 1-800-962-5547 Specialize in RV handicap equipment
Isley's RV Service 5151 W. Bell Road, Glendale, AZ 85308
1-602-938-4990 Specialize in RV handicap equipment
JJ'S RV Parts 722 N. Central, Quartzsite, AZ. 85346
1-928-927-6216 New & Used RV Parts We Have Dinosaur Boards
Swampy Cooling Systems Mesa, AZ.
1-408-897-1233 Source for 12 volt DC and 120 volt AC cooling systems