RV Winter Camping
Winter Camping in Style!
by Peggi McDonald - All rights reserved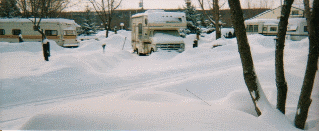 RV's provide a perfect respite after a day of touring, hiking or simply good old family fun. However these fascinating excursions do not have to end because the weather turns cold. Nothing is more peaceful than waking up overlooking a fresh layer of snow in the center of a winter wonderland. This year especially, southern vacations may be less attractive with the fluctuating dollar. Medical problems too can sometimes make it difficult to leave Canada. Since John and I spend many winter months living in our RV in Ontario, we are constantly asked how we do it.
If Campgrounds are closed can we still use our RV?
Most definitely, an RV makes a great chalet for cross country or downhill skiing, new or used snowmobile headquarters, an office for Winterfest activities, a nearby cabin for ice fishing, a hunting cottage, an extra room for Holiday visitors plus numerous other inventive purposes.
Where can we find winter campgrounds listed?
Unfortunately no complete listings exist and only a few parks promote use from October to April but the Explorer Campground Guide and Directory suggests some 'open year round' parks as do Provincial Campground and International Campground Directories. Provincial publications detailing winter activities also list some four-season campgrounds. To locate Provincial toll free phone numbers, dial 800 555 1212, ask for a specific Info line. If an open campground isn't convenient, a parking lot of a ski lodge or similar attraction with vehicle heater plug-ins should work. However never connect your RV without asking the manager first; offer to pay a few dollars. If washrooms are accessible this too will be a big help. Out of respect refrain from dumping gray water on the ground to freeze and pollute.
Can we winter camp in any type of unit?
Hard side trailers and motorhomes may be more practical than pop-ups for cold excursions but during John's military career, he joined friends on several week long hunting trips in a fold down trailer. Although it is easier to stay warm, cut down on drafts and control condensation in insulated units.
How can we reduce drafts and condensation?
A liberal bead of putty style caulking seals unused secondary doors while 1/2" foam 'stick-on' strips added to frames of access doors cuts down on drafts.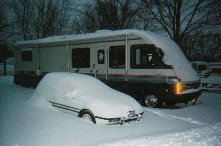 Eliminate cold air from windows by covering them with plastic heat-shrink wrap, seal the outside frame with fingertip caulking. If extensive winter camping is in your future it may be worthwhile to ask your dealer to install thermal windows.
We added cafe curtains for decor, when the sun begins to fall we close the blinds. The fabric provides a cushion between the glass and the blinds to keep the cold out and us toasty warm.
Outside air is always dryer than inside, during cooking or showers opening a vent or window allows the moist inside air to escape. It also provides healthy air interchange. John and I added a Max-Air cover over our bathroom vent to keep rain and snow out even when the vent is wide open.
Spacing several containers of 'No-Damp' Crystals (available from RV Dealers) helps remove moisture from the air whether you are living in your unit or storing it. A circulating fan and small dehumidifier also helps when you are in your unit. Keeping your gas tanks half-full controls fuel tank condensation.
What safety precautions are necessary?
A minimum of 15 Amp power is required to operate your RV furnace fan, plus a sufficient supply of propane. The propane stove removes oxygen from the air, never use it for heat. Just like in your house all RV's should have carbon monoxide and propane monitors as well as smoke alarms. In the confined space of an RV problems may surface sooner than in your spacious home. Although propane in today's RV's is relatively safe, it's advisable to drive with it turned off. Breezes and traffic can extinguish a pilot plus propane copper tubing can crack due to rough roads. Leaks will go undetected because of the forward motion of your unit. If an RV fridge is turned off it will stay cold for up to eight hours during warm weather, it should travel equally well in cold temperatures. To safely warm a moving motorhome, why not add an auxiliary air conditioning/heating unit. It transforms radiator heat into interior warmth.
How can we protect our holding tanks?
If your tanks are not located within insulated floor space and you only enjoy your RV for short getaways it may be wise to carry drinking water and use public washrooms. Adding a porta-potty enhances convenience. If you wish to use your black and gray holding tanks pour RV antifreeze into these tank(s) when they're empty to keep valves from freezing. (NOTE: ONLY use special safe RV antifreeze in your fresh water system). Dump as soon as possible after your getaway. For longer stays place skirting over blue color insulation sheets to keep your floor warm and protect tanks from freezing.
What precautions do you and John take for extended living?
Our winter stopping spot is in an all season campground. By following the above recommendations we live comfortable in sub-zero temperatures. We park on a 24"x8" board under each tire and under each jack even when we don't need leveling. Our first springtime move we required winching out of deep wells caused by the changing ground temperature. We partially winterize our freshwater system by pumping RV antifreeze from the tank to the kitchen taps and outside shower. This protects the pump and all lines not used by the city water system. The pump is then turned off and the switch is taped in that position. An electrical heat strip is attached to the water hose, followed with foam pipe insulation and a wrap of duct tape. In our unit water enters the coach through an unheated closet so we mount a trouble light with a 40W bulb to add warmth.
Campground water controls nestled deep in covered cement cylinders assure water lines do not freeze. Some RVers support their sewer hose at a steep incline but we found it easier to empty our tanks as needed and stow the sewer hose in an insulated compartment. Our final preparation is to insulate the passenger door frame and add caulking putty outside the closed drivers door. We stuff last years egg-shell mattress pad (and put a new one on the bed) in and around the motorhome steering column to reduce drafts.
There's no need to skirt our unit because we have two furnaces, one heats outside storage areas, the other keeps the inside toasty warm, a small heater fan helps circulate the air. Since our motorhome tank required propane every three to four days we now permanently connect to a large tank which is refilled at three week intervals. Even trailers add the large tank to avoid daily propane fillings.
Once again remember, open a window or vent to circulate the air.
Mortgage companies expect payments every month. Why not maximize usage in your home away from home. Year round camping can be fun.