RV Winterizing Tip
Never simply pour RV antifreeze into your fresh water tank to run it to the pump. Even when the tank is drained there remains a gallon or so of water in the bottom of the tank and this water mixes with the antifreeze and lessens its protectionl level.
Also the antifreeze will be very difficult to flush out in the Spring and will taint the water taste for a long, long time!
Disconnect the water inlet side of the pump and introduce the antifreeze at this point. A pump winterizing kit makes this easy to do with the flip of a valve.
With a water heater bypass kit and the pump winterizing kit installed, you can winterize your RV in about 1/2 hour or less.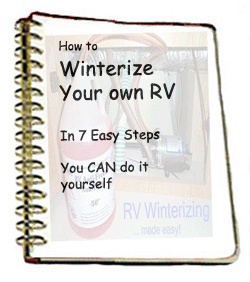 New Mini-Manual Shows How!
Read more ...