Wiring the 7 pole RV plug.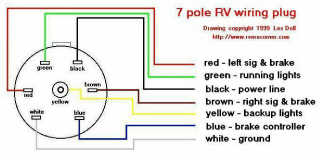 There are two wiring codes for different 7 pole plug sets.
Most RV's use the RV wiring code for the type of plug
that has 6 flat contacts surrounding the center round pin.
Semi's and other commercial trailers use the ASME
(American Society of Mechanical Engineers) type of 7-pole plug. This plug has 6 round contacts surrounding the center pin.
Pin locations for the standard RV 7-pole plug.
The terminals are numbered inside either the trailer or tow vehicle plug (truck circuit number one should connect to trailer circuit number one, etc.), and certain wire colors are used for the different circuits. The wire colors on the truck end may be different, but the trailer should correspond to this color code. The positions indicate where on a clock face the terminals are located - when you are looking into the plug end.


Terminal
Wire Color
Function
Location - Truck
Location Trailer
1
White
Ground
7:00 o'clock
5:00 o'clock
2
Blue
Brakes
5:00 o'clock
7:00 o'clock
3
Green
Running
10:00 o'clock
2:00 o'clock
4
Black
Power
2:00 o'clock
10:00 o'clock
5
Red
LT & Stop
9:00 o'clock
3:00 o'clock
6
Brown
RT & Stop
3:00 o'clock
9:00 o'clock
7
Yellow
Aux or BU
Center
Center


See also RV Wiring