Installing an RV Solar Panel
First disconnect the coach battery.
Disconnect the shore power cord.
Do not run the generator.
Cover the solar panel face with cardboard
to prevent a current from being generated.
Install the panel ...
Find a good mounting location for the panel, face it so that the width end is forward - less wind resistance! The location should be near a logical (meaning an easy) place to route the wiring. This panel has been mounted so that the wiring can be run down the refridgerator vent ... a ready made avenue!
Seal all roof mounting points ...
There are four panel mounting screws that must be sealed ... the wire tie-downs have been incorporated into the existing structures to minimize the roof penetration points ...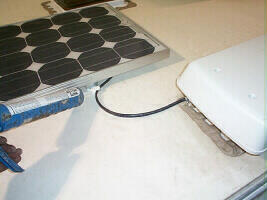 Select a location to install the regulator and display panel. This space above the refridgerator is a "natural" ... it is unused space with no obstructions behind it. The opening is cut out and the two wires from the solar panel are fed down through the refrigerator vent ... another set of wires is fished down through the refrigerator access compartment to later connect to the battery.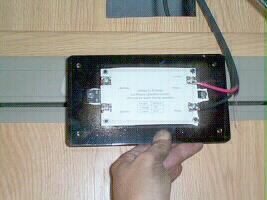 The solar panel is connected to the corresponding terminals of the regulator. All connections are clearly marked. Be sure to connect the wires with the correct polarity. Next, the battery connection at the regulator panel is made. Polarity is important, so double check your connections.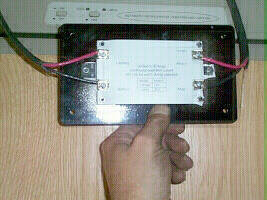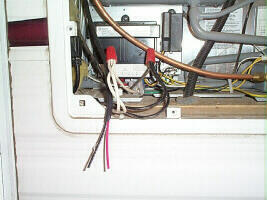 The battery connection wires are fed down the refridgerator comparment and then on to the battery using the most direct routing. Remember that in most RV's the white wires are the ground (negative) connections and the black wires are the positive connections. The wiring from the solar panel regulator has a red wire and a black wire. The black wire is the negative wire and is connected to the negative battery terminal. The red wire from the solar panel regulator is the positive wire and it is connected to the positive battery terminal. This may be somewhat confusing, at first, but do it step by step and double check everything.The completed project looks neat and professional!
This project can be completed in an afternoon and will be charging the battery for many trouble free years.