RV Electrical Accessories
Three-Wire Circuit Analyzer
This device simply plugs in to any outlet. It is recommended that you plug it in to the power supply *before* plugging in your RV. Since the park supply may be the 30 amp plug, just plug in your 15 to 30 amp adapter, and then plug the circuit tester into the adapter.
Three-Wire Circuit Analyzer warns you of faulty wiring in three-wire 110V receptacles.
---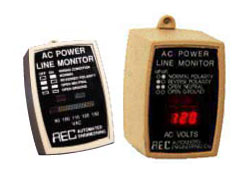 AC Power Line Tester/Monitor
AC Power Line Tester/Monitor prevents high or low voltage damage to appliances. Plug into any three-wire socket at unfamiliar campgrounds and see the exact digital voltage and wiring indicators. Voltage surge protection device protects monitor and anything plugged into the same outlet.
---