Beginners Guide to RV Wiring
Wiring the 7 pole RV Tow Vehicle Socket
View looking into the front (contact) end of tow vehicle socket.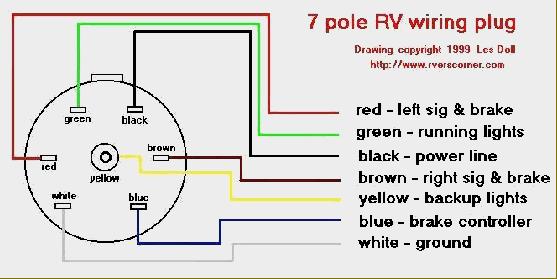 There are two wiring codes for different 7 pole plug sets.
Most RV's use the RV wiring code for the type of plug/socket
that has 6 flat contacts surrounding the center round pin.
Semi's and other commercial trailers use the ASME
(American Society of Mechanical Engineers) type of 7-pole plug set.
This plug has 6 round contacts surrounding the center pin.
The wiring color code for this plug is not the same as the
RV 7 pole plug described below, and will be included at a future time.
7 pole RV plug/socket.

| | | | | |
| --- | --- | --- | --- | --- |
| Terminal | Wire Color | Function | Location - Truck socket | Location Trailer plug |
| 1 | White | Ground | 7:00 o'clock | 5:00 o'clock |
| 2 | Blue | Brakes | 5:00 o'clock | 7:00 o'clock |
| 3 | Green | Running | 10:00 o'clock | 2:00 o'clock |
| 4 | Black | Power | 2:00 o'clock | 10:00 o'clock |
| 5 | Red | LT & Stop | 9:00 o'clock | 3:00 o'clock |
| 6 | Brown | RT & Stop | 3:00 o'clock | 9:00 o'clock |
| 7 | Yellow | Aux or BU | Center | Center |